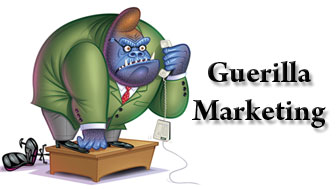 What about Guerilla Marketing?
Do you realize that now could be the best time to break out a guerilla marketing campaign? Given the current economic situation, small businesses can use guerilla marketing to move in and establish the much-needed sense of trust and security back into consumers. Guerilla marketing is very different from traditional marketing. It requires an investment of time, energy, imagination, and knowledge instead of money.

Thursday, April 02, 2009


As marketing budgets continue to diminish, businesses are forced to evaluate their marketing strategies. What about throwing a guerilla marketing campaign into the strategy? Guerilla marketing is very effective if carried out correctly. Let us know if you're thinking of implementing guerilla marketing, or if you already have. We would love to hear about your experiences.

According to Entrepreneur.com, guerilla marketing is " an unconventional way of performing activities on a very low budget." Allbusiness.com prefers to define it by what it is not: "buying advertising space or sponsoring an event."

Most businesses are happy to try anything that mentions "a very low budget." Guerilla marketing is about using creativity, energy, imagination, time, and knowledge instead of the main driver of traditional marketing campaigns: money. It creates a lasting impression but uses a simple idea.

As you begin a guerilla marketing campaign, you need to decide what message you want to send. For instance, do you want humor or do you want to be serious? For humor, you could involve costumes and characters. If you prefer to be more serious, you could involve a charity and give off a heartfelt and genuine impression.

Secondly, find a partner for your campaign. It could be a charity as mentioned above. Or, if you own a beauty salon, maybe you could work with a local clothing store. As you select your partner, look for relevancy between your target market and your potential partner's target market in order to get the best results.

Thirdly, capitalize on your local presence. Small businesses always struggle with large corporate chains, even when the economy is good. Given the current state of the economy, consumers long for a sense of trust and security that small businesses can provide. Consumers will appreciate your efforts to draw their families and communities together and will return their gratitude through sales.

Lastly, follow up is a must with your guerilla marketing campaign. It can be done through email, traditional mail forms, telephone, or door-to-door visits. Just make sure that your guerilla marketing campaign doesn't quickly fade away.




About the Author:
Abby Johnson is a Video Reporter/Anchor for SmallBusinessNewz.