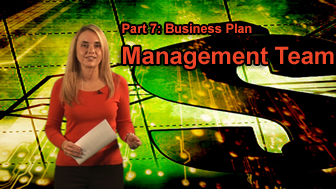 Part 7: Business Plan - Management Team

We've come a long way in our Business Plan series, but we have a few more sections left. Today's segment looks at the Management Team. One of the biggest mistakes people make is simply including their management's resumes into this section. While their resumes should be referenced, this section should be more detailed and focused on their relevant abilities. The 4 main sections within the Management Team section include: Ownership Structure, Internal Management Team, External Management Team, and Human Resources Needs.
Recent Videos:

What about Guerilla Marketing?
Do you realize that now could be the best time to break out a guerilla marketing campaign? Given the current economic situation, small businesses can use guerilla marketing...



Part 6: Business Plan - Competitive Analysis
As we continue our series on Business Plans, today we're looking at the Competitive Analysis. This is the section in which you must explain what benefits your business will provide...



Earn Respect from Large Corporations
Most small businesses struggle to get noticed and accepted by superior companies. In this video, SmallBusinessNewz Reporter Abby Johnson offers up some advice...



Tuesday, April 07, 2009


If you want to find success with your online advertising campaigns, you're going to have to do some testing. In this economy, every dollar counts, and without testing to see what works and what doesn't, you might be flushing some of those dollars down the proverbial toilet. Share your testing tips with SBN readers.

You can read about what works and what doesn't. You can study up on the latest trends in online marketing, but unless you have seen results that meet your own goals, what good are they really? Jen Anderson of Google's Retail Team has a thought-provoking post up about why you have to test things for yourself. She writes:

What I've realized from my experience is that 3rd party research can never be 100% accurate for my business. I hear from the field, "that white label retailer is smaller than me," or "my target audience is older than the one in the study," etc. This is not to say 3rd party data isn't valuable. On the contrary, if we can learn how other advertisers have succeeded by studying their research, we are only the wiser. But instead of using 3rd party data to validate our campaign strategies, it's time we start conducting more of our own research tests.




With retailers now being forced to "do more with less," we must prove the value of every single ad dollar. We can no longer afford to take someone else's word that banners drive search, or that multi-channel shoppers spend more. We need to set up methodical tests, using our own retailer data, to better understand how our advertising is driving sales. Instead of the mantra "do more with less," we should be asking, "how can we make the most with what we have?"

A bit surprisingly, Anderson doesn't get into Google's own website optimizer tool. Retailers can find tremendous value from it though, so allow me to delve into it a bit. If you've got an hour to spend learning, you might want to check out this webinar on the tool: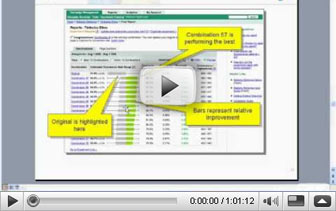 Essentially, Website Optimizer lets you conduct A/B tests and multivariate tests for your site/landing pages. Use A/B when your site doesn't get a lot of traffic, you want to experiment with different layouts, or you want to alter the overall look and feel of a page.

Use multivariate when you get a lot of traffic, the layout and overall design of your page will stay the same, or you want to change specific parts of your page, like a headline or image, simultaneously. I've discussed this in a bit more detail here.

Google also offers some new display ad templates for rich media that allow for testing to see which products are attracting clicks. They let you display different products within one ad with separate, unique URLs. You can then use Google Analytics to help you make adjustments to what's not working, by looking at what is.