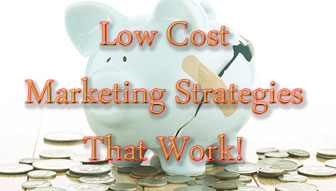 Low Cost Marketing Strategies That Work!

Many businesses are being forced to tighten their belts and cut budgets as a result of the economic downturn. Because budgets are being cut doesn't mean businesses should abandon all their business strategies.
Recent Videos:

Part 7: Business Plan - Management Team
We've come a long way in our Business Plan series, but we have a few more sections left. Today's segment looks at the Management Team.



What about Guerilla Marketing?
Do you realize that now could be the best time to break out a guerilla marketing campaign? Given the current economic situation, small businesses can use guerilla marketing...



Thursday, April 09, 2009


The above headline was not intended as a reference to the Bonnie Raitt song, but if you want word to spread about your business or your product, it only makes sense to give them something worth talking about. Share your thoughts.

When you can get real people generating buzz about your business/product, it is bound to be more valuable than a regular old ad. Think about it from the consumer's point of view. If you heard from a friend that one kind of pizza was better than the other, wouldn't you be more likely to try that kind than you would if you just saw an ad for it on a search engine results page for a pizza search?

SEOBook author Aaron Wall has a pair of complimentary posts up about how "word of mouth is king" in 2009. In them, he discusses why you need to be creating ads (and site) that resonate with consumers. If something in your ad strikes a chord with one person, they will potentially share it with others, even if they don't convert themselves.


In one of the posts, Wall talks about ads advertisers pay for that end up being wasted money:



- the phantom distribution created by newspapers and magazines that were printed then burned (or never even printed in the first place)

- the newspaper website that creates inventory by refreshing the page every 5 minutes

- the TV ad that runs at the wrong time and/or is delivered to the wrong audience

- the niche clean traffic source that pads their numbers with low value & low cost social media traffic

- the ad unit at the bottom of the page that nobody sees


There are more. View his complete list here.

Aaron's point is essentially that you should create a site and a product worthy of attracting word-of-mouth buzz. A nice testimonial from a real person is "worth far more than 20 or 50 or 100 typical AdWords clicks" according to him.