The Power, Control and Services You Need Wrapped
in the Expert Support You Want - Learn More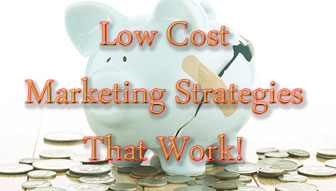 Low Cost Marketing Strategies That Work!

Many businesses are being forced to tighten their belts and cut budgets as a result of the economic downturn. Because budgets are being cut doesn't mean businesses should abandon all their business strategies. In this report from Abby Johnson, she shares 5 low-budget marketing tactics that businesses can successfully utilize.
Recent Videos:

Part 8: Business Plan - Financial Plan
Continuing in our Business Plan series, today's segment covers the Financial Plan section. This section comes second to the last because it uses data from the other sections.



Tuesday, April 14, 2009


You may find it hard to believe, but there are a lot of businesses out there that have yet to build an online presence. These businesses should really reconsider this for a plethora of reasons. Are you one of the business owners who does not have a website? Tell us why.

Despite all of the different marketing channels you have available to you online, your site is the most important one. It all leads to your site, particularly if you are selling goods from it. When a potential customer visits your site, they will make the decision whether or not they want to do business with you, and if it unprofessional looking, the chances of them choosing to do so will be that much slimmer.

There are many, many factors to consider when creating your site, but Smashing Magazine has a pretty good little checklist of 15 things to look at when launching. This article describes the following items:



The Power, Control and Services You Need Wrapped
in the Expert Support You Want - Learn More


1. Favicon
2. Titles and Meta Data
3. Cross-Browser Checks
4. Proofread
5. Links
6. Functionality Check
7. Graceful Degradation
8. Validation
9. RSS Link
10. Analytics
11. Sitemap
12. Defensive Design
13. Optimize
14. Back Up
15. Print Style Sheet

Another pretty important element that I've discussed before is the domain name. Generally, the most effective domain names are easy to remember, not too long, easy to spell, relevant to the business, and reflect the brand.

Design should be a priority though. Think usability above all else. Accessibility should be on the agenda as well.