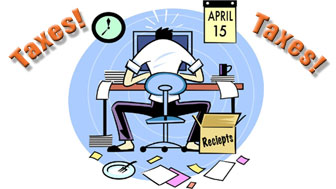 Overcoming Tax Debt

April 15th is a dreaded day for some. If you weren't able to make your tax payments and file your taxes by today, this video offers advice on how you can cope with your tax debt and avoid it in the future. One of the most common mistakes people make with their taxes is they fail to educate themselves about taxes.

While the IRS may come across as big and evil, they provide all the information you need to know about your taxes. Other great sources of information include accountants, attorneys, or tax professionals.
Recent Videos:

Part 8: Business Plan - Financial Plan
Continuing in our Business Plan series, today's segment covers the Financial Plan section. This section comes second to the last because it uses data from the other sections.



Low Cost Marketing Strategies That Work!
Many businesses are being forced to tighten their belts and cut budgets as a result of the economic downturn. Because budgets are being cut doesn't mean businesses should abandon...



Part 7: Business Plan - Management Team
We've come a long way in our Business Plan series, but we have a few more sections left. Today's segment looks at the Management Team.



Thursday, April 16, 2009


For brick and mortar businesses, business hours are a key piece of information that customers want/need to know. I've discussed having reasonable business hours in the past. Can your customers find your hours online?

I talked about a small video store in a small town that seemingly closes shop whenever it wants, without any real consistency. I would imagine that the only reason this store remains in business is because there are really no other competitors in that town. Although, the rise of online video and mail services like Netflix might put an end to it eventually.

Customers need to know when you are going to be operating. 'Nuff said. But even if you do keep regular hours, your potential customers will not necessarily know what they are. As more and more people use the Internet to find information about local businesses, you're going to want to take this into consideration. You might miss out on sales if you don't. This is of particular importance if you change your hours around the holidays.


Hitwise has some interesting data related to Internet searches for opening times that show huge spikes around the holidays. Look at the following graphs: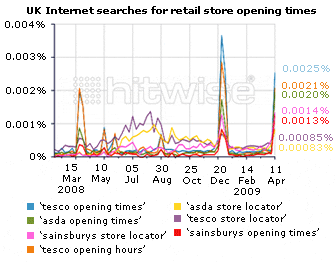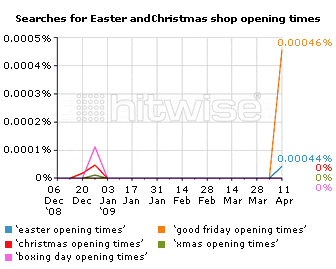 Hitwise's Robin Goad points out the potential SEO opportunities. You should also take such information into account on your website, and in Google Local Business Center listings.