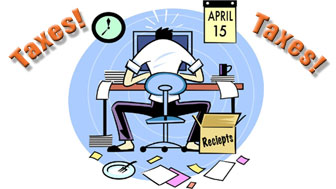 Overcoming Tax Debt
April 15th is a dreaded day for some. If you weren't able to make your tax payments and file your taxes by today, this video offers advice on how you can cope with your tax debt and avoid it in the future. One of the most common mistakes people make with their taxes is they fail to educate themselves about taxes. While the IRS may come across as big and evil, they provide all the information you need to know about your taxes.

Tuesday, April 21, 2009


There are times when businesses should get on board with social media marketing, and there are times when they should not. I still believe, that in most cases, it is wise to orchestrate some sort of social media strategy, but there are exceptions to every rule. When should you not use social media? Comment.

Certain instances like the following listed (and elaborated upon) by BtoB Online when you should probably avoid (or at least use more caution with) social media include:

1. You're in a high-ticket business
2. You fight with your employees
3. Management skepticism
4. Strategic vacuum
5. Privacy and regulatory concerns

But in most other cases, it is probably in your best interest to participate in online communities. A common problem associated with this however is that business owners have a hard time tracking social media efforts.


Most web analytics solutions don't cater particularly well to social media data at this point, but that does not mean there aren't metrics that you can use to at least obtain some sense of whether or not efforts are working. Ben Parr at Mashable has a fantastic article looking at social media analytics here.

"What is your goal?" asks Parr. "Do you want to track how people are sharing your website? Do you want to track a specific social media campaign? Or maybe you're just interested in trends related to a specific meme or social media phenomenon? Each one requires different tools and different focus."

He goes on to suggest optimizing existing analytics software through plugins, setting different campaigns for different events, and reorganizing dashboards as well as setting up email reports to get all data into one place for better analysis. Par also looks at some additional analytics tools and has strategies. For those interested in the topic, I strongly recommend reading the article.

Do you have certain strategies for tracking social media marketing efforts? Care to share them with SmallBusinessNewz readers? Have at it.