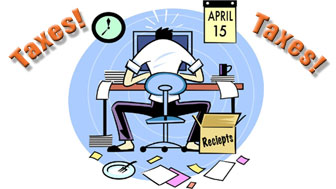 Overcoming Tax Debt

April 15th is a dreaded day for some. If you weren't able to make your tax payments and file your taxes by today, this video offers advice on how you can cope with your tax debt and avoid it in the future.
Recent Videos:

Part 8: Business Plan - Financial Plan
Continuing in our Business Plan series, today's segment covers the Financial Plan section. This section comes second to the last because it uses data from the other sections.



Low Cost Marketing Strategies That Work!
Many businesses are being forced to tighten their belts and cut budgets as a result of the economic downturn. Because budgets are being cut doesn't mean businesses should abandon...



Part 7: Business Plan - Management Team
We've come a long way in our Business Plan series, but we have a few more sections left. Today's segment looks at the Management Team.



Tuesday, April 28, 2009


If new scientific research is any indication, it appears that online coupons have a much bigger effect on consumers than print coupons do. A fascinating study from NeuroFocus examined consumer responses to coupons both online and printed by analyzing brainwave activity, and combining those findings with others from eye tracking and galvanic skin response measurements. Have you experimented with online coupons?

"Our research gives companies the first clear understanding of how consumers respond to coupons where it really counts: deep inside their subconscious minds," said Dr. A. K. Pradeep, CEO of NeuroFocus. "Neuroscience has proven that that is the level where product interest, purchase intent, and brand loyalty are really formed."

"The fundamental difference between this research and others is that measuring brainwave responses results in factual findings, not interpretations of what consumers say they think or feel about coupons," Dr. Pradeep said. "As our Chief Science Advisor Dr. Robert Knight, one of the world's preeminent neuroscientists, explains, 'the brain makes behavior.' With these results, companies now know the critical differences in subconscious responses across the categories that determine behavior, so they can make the most fully-informed strategic marketing decisions when it comes to couponing."


The research looked at metrics like attention, emotional engagement, memory retention, purchase intent, novelty, and awareness. Online coupon success far-exceeded print in each category except for memory retention. In this category, online still came out ahead, but it was closer.

Online coupon sites have seen record traffic in the days of the global financial crisis. We have frequently encouraged the use of coupons as a way for businesses to save their customers' money and ultimately get their business. Doug has discussed tips for creating good coupons. A comment on a recent SmallBusinessNewz article from Anthony Wayne said:

The best success we have had in couponing is mobile coupons. The great thing about sending a coupon to the mobile phone is that you often reach a person when he/she is out in the town. So, the incentive to go to the store is even greater than usual.

Moreover, the person always has the coupon with them. How many times did you wish you had the coupon, but it was left at home or you failed to cut it out of the newspaper.

Also, you can reach the person exactly when you want to reach them. If you own a Subway store, for example you can send mobile coupons right before lunch time.

I find this to be an interesting idea. The added convenience of not having to print out the coupon is a great way to avoid a situation in which the customer is just to lazy to do so.