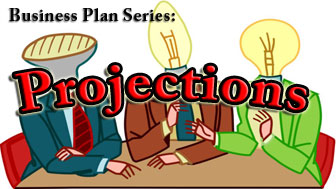 Part 9: Business Plan - Projections

Today marks the end of our series on Business Plans as we look at the last section: Projections. Just as we mentioned in the beginning, this section could be included in the Financial Plan section since it discusses sources and uses of funding, sales/revenue expectations, and total expenses needed; or, it could stand-alone.
Recent Videos:

Overcoming Tax Debt
April 15th is a dreaded day for some. If you werenít able to make your tax payments and file your taxes by today, this video offers advice on how you can cope with your tax debt ...



Part 8: Business Plan - Financial Plan
Continuing in our Business Plan series, today's segment covers the Financial Plan section. This section comes second to the last because it uses data from the other sections.



Low Cost Marketing Strategies That Work!
Many businesses are being forced to tighten their belts and cut budgets as a result of the economic downturn. Because budgets are being cut doesn't mean businesses should abandon...



Thursday, April 30, 2009


We've discussed repeatedly many benefits for businesses to use social media. We've also discussed in the past that some companies remain skeptical of the advantages. System administrators in particular have expressed concern about social media in the workplace. Have you ever experienced a security problem as a result of social media?

"The initial productivity concerns that many organizations harbored when Facebook first shot to popularity are giving way to the realization that there are more deliberate and malicious risks associated with social networking," said Graham Cluley, senior technology consultant at Sophos.

"As cybercriminals choose to exploit these sites for nefarious purposes, both innocent users and companies are finding themselves in the firing line. But until users wise up to the dangers, and firms begin to take precautionary measures to combat these threats, then the situation will intensify," added Cluley.

It's hard to justify not being involved in social media in some capacity this day and age if you want to remain competitive with your marketing efforts. So what can you do? Sophos shares a few tips to help you combat social networking perils:


- Educate your workforce about online risks - make sure all employees are aware of the impact that their actions could have on the corporate network

- Consider filtering access to certain social networking sites at specific times - this can be easily set by user groups or time periods for example

- Check the information that your organization and staff share online - if sensitive business data is being shared, evaluate the situation and act as appropriate

- Review your Web 2.0 security settings regularly - users should only be sharing work-related information with trusted parties

- Ensure that you have a solution in place that can proactively scan all websites for malware, spam and phishing content

Sophos data indicates that a third of organizations still consider productivity issues to be reason enough for blocking social networks. This is going to have to be evaluated against what you are hoping to achieve in you social media efforts.