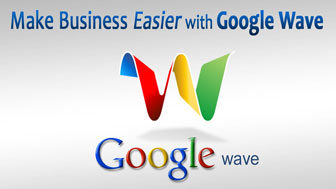 Make Business Easier with Google Wave

In May, Google announced a product that will play a large role in the future of business. The new toolset is called Google Wave and is a communications model that was developed by same brothers who are responsible for Google Maps. Google Wave is a collaboration tool that combines email, instant messaging, social media, and more. Reporter Abby Johnson discusses its specific features and explains how it will help businesses moving forward.
Recent Videos:

Starting a Business with as Little Risk as Possible
Most everyone enjoys a good adventure occasionally because of the excitement and small danger aspects associated with it.



Who Said Relationship Marketing Was Out Of Style?
Although some reports indicate that the recession is over or near being over, both businesses and consumers continue to face ...



Writing Targeted Ad Copy
If you were advertising to yourself, how would you get your own attention? We've all purchased mailing lists in marketing efforts to try to target a specific demographic.



Tuesday, July 07, 2009


A little extra attention never hurts, and if you can get some media coverage for your business, you can get a lot of extra exposure. This is generally free exposure, at that. Do you actively seek media coverage? Tell us about your strategy.

I can speak from first-hand experience on this matter, because I get companies and PR firms coming to SmallBusinessNewz (not to mention WebProNews) all the time wanting some coverage. This is a perfectly legitimate way to go about marketing your business, but as one who writes the articles and has the ability to control coverage (to some extent), I can tell you, we just don't have time to cover everyone, even if we wanted to. I suspect that other publications could say the same thing.

So what can you do to increase your chances of media coverage?

1. Do Something That's Different

The best way to generate enough interest in your business for a publication to cover it is to simply do something that makes you stand out. Do something different. Something new. Something that isn't just a rehashed version of something we've seen time and time again. If it is interesting enough to appeal to us, we figure there is reason to believe it will be interesting to readers as well.

If your business is doing something interesting that nobody else is doing, and its worth talking about it, the right publications will (in theory) be interested in talking about it. Again, time and resources can often enter the equation though.

2. Look for Niche Publications

The more niche the publication, the more likely they probably are to cover you. In other words, look for publications that typically write about the space that your business is in. They will be more likely to cover you than a publication of a wider range of topics.

Niche publications will likely have a better chunk of your target audience than a non-niche publication, although this could vary depending on the nature of your business/product.


3. Personalize Your Message

When you're writing an email to a publication to talk about your business and drum up some interest in coverage, it helps if you personalize the message so they know it's not just a manufactured piece that you're sending all over the web.

We tend to like exclusive stories and unless it is just a big piece of news, this will likely inspire greater interest in potential coverage. Even if you do intend to try your luck with other publications, a personal touch will make it seem as if you are especially interested in coverage from the publication you're writing to.

4. Find Multiple Contacts

If you can find more than one contact for a particular publication, it can be wise to send your story pitch to them. This will increase the potential visibility of your pitch among the publication's staff.

As I said, we get quite a few pitches, not to mention all the rest of our daily messages, and things can get lost, forgotten, buried, etc. The more people you get the pitch to, the better chance you have of someone picking the story up. Again, you'll want to personalize your messages, and it would be in good taste to let each contact know who else within their organization you've sent it to. This will help them better coordinate any potential coverage, and keep them from getting wires crossed.

5. Provide Plenty of Details

Finally, when sending such a pitch, it is a good idea to include as many details about your product/story as possible. The more details we have, the less research we have to do, which means the less time it will take to come up with a story.

Once again, time is always a factor with us, so the less facts we have to hunt down, the more likely we are to consider your story, if it is deemed worthy of coverage.

Wrapping Up

The above five tips are simply guidelines. They are not rules that are set in stone. There are always exceptions, and these are by no means how we at SmallBusinessNewz operate all of the time. Some publications may have totally different ways of going about this kind of thing, but I think you'll find that if you keep these things in mind, you will have more luck in getting media outlets to cover your business.