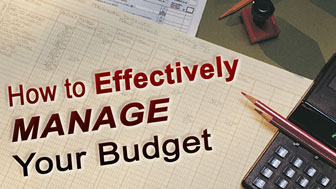 How to Effectively Manage Your Budget

Every business needs a budget, whether it is large or small. Because a small business budget isn't required to be as structured as larger businesses are, many small businesses tend to neglect their budget. In this video report, Abby Johnson lists 5 tips for keeping your small business in line with your budget.
Recent Videos:

Make Business Easier with Google Wave
In May, Google announced a product that will play a large role in the future of business. The new toolset is called Google Wave and is a communications model that was developed ...



Tuesday, July 14, 2009


For some time, about the best we could hope for while tracking various optimism-measuring small business reports was that lots of people wouldn't sink into clinical depression; even neutral (overall) feedback has been hard to find. But the BBC's now delivered with a study in which no one felt worse on a month-over-month basis. Do you feel the BBC's small business owners are right to be feeling more confident? Let us know in the comments section.



Here's one important note: the BBC's been talking to the owners of these firms for quite a while (see our May or even January report), so it's not like ten Pollyannas were handpicked. At other points in the study's duration, the surveyed individuals have felt significantly less happy.

The most recent results are as follows, though: out of the ten UK small business owners, seven reported an unchanged level of confidence since April, which leaves them at an average level of about 7.6 out of 10. And that seems very generous, really, given all the economy's been through.


Then, with regards to the remaining three small business owners in the sample group, things are looking quite good. Their confidence increased after April passed, putting them at an average level of 8.3 out of 10. It's hard to imagine the ratings going much higher than this under any circumstances.

In fact, some of the concerns the owners expressed related to Christmas and an expansion, so they're apparently able to look to the future and are not exactly facing a lot of immediate pressure or problems. (Another persistent concern tied to ever-problematic bank support.)



So little firms in the UK appear to be making progress. Let's just hope that the BBC's group of small business owners is a representative sample, or at least that other small business owners are feeling about as hopeful.