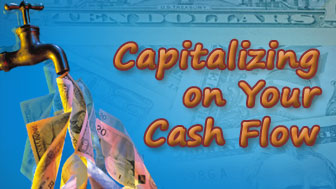 Capitalizing on Your Cash Flow

How important do you consider your cash flow? It seems that many small businesses disregard their cash flow and focus the majority of their attention on something like sales instead. While sales are an important part of growing a business, the cash flow is actually what pays the bills and allows for future improvements and endeavors. In this video, Abby Johnson discusses 5 tips for managing and taking full advantage of your cash flow.
Recent Videos:

How to Effectively Manage Your Budget
Every business needs a budget, whether it is large or small. Because a small business budget isn't required to be as structured as larger businesses are, many businesses ...



Make Business Easier with Google Wave
In May, Google announced a product that will play a large role in the future of business. The new toolset is called Google Wave and is a communications model that was developed ...



Starting a Business with as Little Risk as Possible
Most everyone enjoys a good adventure occasionally because of the excitement and small danger aspects associated with it.



Tuesday, July 21, 2009


LinkedIn has been running a series on its company blog in which guest authors (small business owners in some cases) share some ways that LinkedIn has helped them run their businesses. What benefits have you gotten out of LinkedIn?

The series is clearly a way for the company to get people using LinkedIn more, but not only is this a good strategy on LinkedIn's part for corporate blogging, it also happens to be a valuable resource for business owners who are still unsure of what they an really get out of LinkedIn, and in some cases social networks in general.

The series includes posts like:


The posts in this series talk about things like asking the LinkedIn community to comment on best practices in certain niches and regarding specific technologies, as well as marketing, and finding people of influence. They talk about generating leads and referrals, and even gaining some perspective on web design and navigation.


Here are a few interesting facts about LinkedIn:



- It has over 43 million members in over 200 countries and territories around the world.

- A new member joins LinkedIn approximately every second, and about half of the members are outside the U.S.

- Executives from all Fortune 500 companies are LinkedIn members.


These are just some things LinkedIn wants users to keep in mind. To benefit from LinkedIn, you're going to have to "develop a network that lasts," and a while back, LinkedIn VP of Marketing and Advertising, Patrick Crane shared the following tips on how to do just that:



1. Upload your address book.

2. Focus on nurturing your network by seeing what questions their asking and helping them when you can.

3. Check your network updates frequently.

4. When you find someone you want to work with, pick the strongest connection you have to introduce you. (try advanced search).

5. Write recommendations for the people you trust and respect.


The moral of the story is that you should read the LinkedIn blog on a regular basis to get a variety of helpful tips on how you can use the professional social network to benefit your business. It's not just fluff. You can actually get some solid ideas and use them to improve your own experience. By the way, if you are still unsure about the whole social networking thing in general, this study may interest you. It shows a direct correlation between brands engaging in social media and their bottom lines.