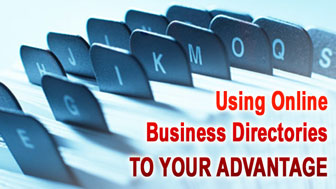 Using Online Business Directories to Your Advantage

Online business directories, such as YellowPages.com, allow business owners to attract new customers and establish their brands by giving potential customers information about their business. By being listed in online directories you are able to reach a broader range ...
Recent Videos:

Capitalizing on Your Cash Flow
How important do you consider your cash flow? It seems that many small businesses disregard their cash flow and focus the majority of their attention on something like sales instead.



How to Effectively Manage Your Budget
Every business needs a budget, whether it is large or small. Because a small business budget isn't required to be as structured as larger businesses are, many businesses ...



Make Business Easier with Google Wave
In May, Google announced a product that will play a large role in the future of business. The new toolset is called Google Wave and is a communications model that was developed ...



Thursday, July 23, 2009


The other day, I received a notification in my inbox that I was now being followed by the Kentucky Theater. If you are not from the Lexington area, you probably have never heard of the KY Theater. It's an old-time theater that shows movies as well as performances. But that's beside the point. Have you used Twitter as a tool to reach out to locals?

I was a little surprised to find the place following me on Twitter out of the blue. Everyone around here knows the KY Theater (whether they've actually been to it or not). This was not just them following me back. I check to make sure, I had not been following them previously (although I probably would have been, if had occurred to me).

Once they did begin following me, I was happy to follow them back, and not just because they were following me, but because I am genuinely interested in seeing updates about what the theater is up to. They show a lot of old and classic movies, and it would be a good way to stay informed about what films they will be showing.

I don't know if the KY Theater decided to follow me because of what I do for a living, or just because I'm from the area (or a combination of the two). Either way, it got me thinking, that it was a pretty good strategy for a local business. You don't have to wait for your customers to find you on Twitter. You can follow them.


Is this spam?

That is a good question. I do not feel like I was spammed by the KY Theater. i received one notification that they were following me and that was that. It would have been no different from anyone else following me. I had the option of whether or not I wanted to follow them back. Their tweeting habits from there is a completely different situation.

Essentially, all the KY Theater did was express their interest in following my updates. With that, they let me know about their own presence on Twitter. I personally see nothing wrong with this tactic. What do you think?

If they were constantly throwing mentions (@username) at me trying to promote something, that's one thing, but they don't even have to be following me to do that. That would be more along the lines of spam in my opinion. Simply following me seems legit in my book, and is a good way to spread awareness.

I'll go ahead and throw a shameless plug in here, but only because it is relevant. TwellowHood is a great way to find Twitterers by city. Just throwing that out there.