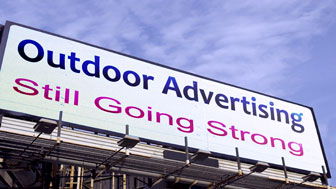 Outdoor Advertising Still Going Strong

Do you consider outdoor advertising obsolete? If so, you might want to reconsider. In this video report, Abby Johnson explains how outdoor advertising is targeted, cost-effective, and highly visible. According to the Outdoor Advertising Market Report: 2009 Edition from Aarkstore Entreprise, outdoor advertising is actually the second fastest growing ad medium and is expected to grow in coming years.
Recent Videos:

Using Online Business Directories to Your Advantage
Online business directories, such as YellowPages.com, allow business owners to attract new customers and establish their ...



Capitalizing on Your Cash Flow
How important do you consider your cash flow? It seems that many small businesses disregard their cash flow and focus the majority of their attention on something like sales instead.



How to Effectively Manage Your Budget
Every business needs a budget, whether it is large or small. Because a small business budget isn't required to be as structured as larger businesses are, many businesses ...



Thursday, July 30, 2009


Principal Financial Group has released the findings of a study conducted by Harris Interactive, which show that many small business owners have no plan for retirement. The group says that the economy creates disconnect between stated priorities and reality. Do you have a plan for retirement?

The study surveyed small to medium-sized business owners with 2-500 employees. Out of those surveyed, about 7 out of 10 owners or 66% report that they don't have an exit plan to transition their business in the event of death, disability or retirement. 70% focus on growing their business, 47% focus on achieving business stability, and another 47% focus on remaining active in business after retirement.

"Recent market events have forced most people to reassess financial priorities, but the task looms larger for business owners who must take stock of their personal and business needs," says Steve Parrish, national advanced solutions consultant for the Principal Financial Group. "Many owners said their retirement plan is to never retire, while others plan to fund retirement by selling their business. By not developing a plan to exit their business, they leave it vulnerable to be sold for less than it's worth, creating a negative financial impact for themselves and their family."


Additional Findings:



- Health insurance was the top priority for business owners, yet more than half of owners (58%) do not currently offer this benefit.

- Business protection followed in importance, but according to the survey, six out of 10 (61%) do not have plans in place to help them protect their business in the case of death, disability or termination of key employees.

- Retirement plans came in at number three, yet only about one in five (19%) offer a 401(k) plan to employees.


"Our research clearly demonstrates owners are torn between their desires and their current reality," says Parrish. "The economic environment highlights the importance of preparing for the unexpected. While it's understandable individuals will focus on the short term now, they need to make time to plan for their future so they can protect their business and meet their financial goals."

What are you priorities? Do you have a plan in place for retirement?