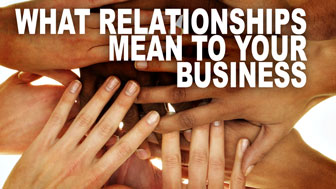 What Relationships Mean to Your Business

Communities are important both offline and online. Offline, it is very important for people to be involved in local events and organizations. Online communities are important as well, especially since they are not geographically limited.
Recent Videos:

Want Your Business to Be Lucky? Watch Video for Tips
Are you a lucky person? Some people just seem to have all the luck, and others seem to have more than enough bad fortune to spread ...



The Differences between Large and Small Businesses
While some tactics work for both large and small businesses, most of the time, there are too many differences. Some people "fit" ...



Branding Tips You Need to Know
What are people saying about your business? Is it good or is it bad? These questions of reputation actually define your brand. According to influential blogger Chris Garrett ...

Thursday, March 03, 2011


Unless you're a really lucky person, you've probably come to the realization that relationships are vital to your business. Relationships are connections that can introduce you to new circles of connections and so on and so forth. This process, in many cases, allows for the opportunities that enable businesses to grow.

Does your business actively pursue building strong relationships? Why or why not?.

One great place for building relationships is in communities, as pointed out in the video on the left. Both online and offline communities are important in this because they each can introduce you to a different type of connection. Being involved in an online community allows businesses to connect with colleagues from all over the world and interact about their industries and other areas of similar interest.

Offline communities, on the other hand, do not, typically, contain contacts within the same industry. While it is beneficial if there are others within your industry, it's not necessary. Offline communities consist of PTA boards, the Chambers of Commerce, political affiliations, churches, and more. These communities are more geared toward finding potential partners that can compliment your own business.

To get the greatest benefit from both online and offline communities, businesses have to get involved. While it takes time and effort, this activity produces visibility. By initiating activities such as monthly tweetups, committees, and campaigns, businesses have the ability to begin relationships that could potentially lead to new audiences.

Another factor that businesses need to possess in these communities is the desire to help people. So many people today think that they can take without giving anything in return. However, this way of thinking simply does not work when trying to build strong, lasting relationships. Now, you shouldn't give so much that the aforementioned people take advantage of you, but you should expect to give a little.

Online, businesses can do this by offering tips or information. Offline, businesses can do this by volunteering their time and services at another business's event. By offering this help, businesses start to gain trust for each other, which is the basis of a strong relationship.

A third element that a business needs to act on as it tries to build relationships is to keep a contact list up-to-date. Every couple of months, a business should send an email or make a phone call to find out if the contact information it has is still correct. A business cannot build relationships with people that have moved on to other ventures, or that are irrelevant.

Once the list is updated, a business should suggest going to lunch or dinner with the people that it would like to work with moving forward. These settings allow for more communication, which is also a vital aspect of a relationship.

By implementing these practices in offline and online communities, businesses should see strong relationships starting to shape. Just think, these relationships could be just the beginning of a great partnership, opportunity, and so much more.