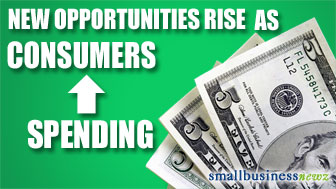 New Opportunities as Consumers Increase Spending

The recession taught consumers to be cautious and frugal with their money. Fortunately for businesses, the economy is turning around and consumers are beginning to open their pocket books. According to new data from the National Retail Federation, Americans are becoming more generous with their spending habits, even with small luxury items.
Recent Videos:

How New Laws Could Offer Tax Relief for SMBs
With new legislation in place, this year's tax season might not be so bad after all. In fact, you might even be able to save money. Katie Morell, a contributor to the OPEN Forum ...


What Relationships Mean to Your Business
Communities are important both offline and online. Offline, it is very important for people to be involved in local events and organizations. Online communities are important as well ...



Want Your Business to Be Lucky? Watch Video for Tips
Are you a lucky person? Some people just seem to have all the luck, and others seem to have more than enough bad fortune to spread ...



Thursday, March 24, 2011


A new study from the National Retail Federation and BIGresearch bears good news for all. The research found that Americans are becoming more generous with their spending habits, especially in regards to small luxury items.

Have you found yourself splurging on salon services or an extra cup of gourmet coffee over the past few months? Why or why not? Please share your store.

As the video on the left explains, during the recession, most consumers were forced to cut all spending that wasn't absolutely necessary. In other words, many people did their own hair instead of having a salon do it, skipped their morning gourmet coffee, and even eliminated casual restaurant dining from their budget. However, new research shows that Americans are now considering each of these items "untouchable."

Specifically, the report shows that 32 percent of Americans are now actively embracing casual dining, 42 percent of Americans are visiting salons again for haircuts and color, and 16.7 percent of Americans are buying their daily cup of gourmet coffee again. All of these statistics are up considerably from 2009.

"For a large part of the country, small luxuries such as gourmet coffee, casual dining and even high end cosmetics were among the things many consumers really had to learn to live without. Though most Americans are still quite focused on maintaining a budget, many are once again falling in love with the things they had to temporarily say good-bye to," said STORES Magazine editor Susan Reda.

Technology is another area that Americans are now pushing to their necessity list. According to the study, 22.9 percent believe smartphones, tablets, and eReaders are considered to be "non-negotiable." Interestingly, technology spending stayed fairly consistent at 81.5 percent in spite of the recession.

Although the economy has shown improvement, magazine subscriptions, satellite radio, and fine dining are all still considered "nonessential" items at this point.

While these findings are great news for the overall economy, they are also important for small businesses. As people are beginning to open their wallets to small luxuries, businesses have a huge opportunity to connect with consumers. One prominent way to do this is in the couponing space.

The concept of "daily deals" has completely taken the world by storm with players such as Groupon and LivingSocial competing aggressively. Local platforms have also risen up in this space and are reaching consumers as well.

Popular location service Foursquare also provides opportunities for businesses to tap into this research through its new merchant platform. The program is called Foursquare Specials and allows businesses to attract and reward consumers with coupons, prizes, or discounts.

Many of these social programs have the ability to create a sense of impulse with consumers, which, typically, results in a purchase. If businesses take this data to heart, they might see their profits increase.