Thursday, March 07, 2013


Do your palms get sweaty and does your stomach start to churn at the thought of attending a face-to-face business networking function or meetup?

You're not alone.

More people than not get nervous when it comes to meeting strangers in this type of setting.

But why does that happen?

We talk to strangers all the time (well, at least I do!) when we're out and about just living our life. Isn't it the same thing?

Well, not really.

At a networking function we're meeting people who could be a potential business connection that can help us grow our business — via a joint venture, as a connector to a key prospect, or as a customer.

And most of us don't like to sell, so it sets up this really nerve wracking situation that we're all uncomfortable with. Ugh!

But the truth is, business networking isn't about selling.

It's about building mutually beneficial relationships with other people. Once you shift your thinking, that makes it a whole lot easier.

And I've found the secret to networking successfully which I share in the short video below.

Take a few minutes to watch and let me know what you think.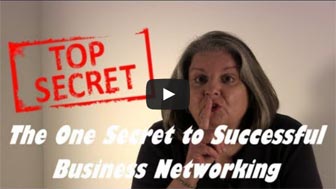 If you can't see the video, click here.

How do you approach business networking?

I'd love for you to share a tip or some advice in the comments below.

If you need more help with your networking, you might want to pick up my Kindle book – 99 Nuggets to Power Up Your Schmooze-Ability

Comments




About the Author:
Denise O'Berry is a small business expert who provides tools, tips and advice to help small business owners be successful. O'Berry is the author of "Small Business Cash Flow: Strategies for Making Your Business a Financial Success." Her blog can be found at Just for Small Business.