Thursday, May 30, 2013


If you're like most small business owners, your day is sucked dry with tasks you must do to keep your business afloat.

I sure get that.

Sometimes it seems we need 40 hours in every day rather than the standard 24. I've had more of those days than I'd like to admit.

And sometimes we get so wrapped up in running our business that we forget we need to work on our business (cliché I know, but it's true). If you don't spend time on business growth — developing new business, creating new product and service streams — you will soon be out of business.

So how do you make it all work?

Consistent and frequent focus on business growth is the key. But how do you make the time for it when your schedule is already packed?

That's the dilemma I tackle in this week's quick two minute video — watch it now.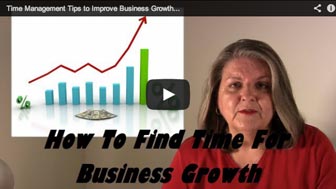 If you can't see the video, click here.

To avoid burnout, you have to devote time to business growth. What tip can you share?

Please leave a comment.

Comments




About the Author:
Denise O'Berry is a small business expert who provides tools, tips and advice to help small business owners be successful. O'Berry is the author of "Small Business Cash Flow: Strategies for Making Your Business a Financial Success." Her blog can be found at Just for Small Business.