Thursday, June 20, 2013


Did you know that the 23 million small businesses in America account for 54% of all U.S. sales?

Did you know that small businesses provide 55% of all jobs and 66% of all net new jobs since the 1970s?

While big business has eliminated four million jobs since 1990, small businesses added eight million.

Why the focus on small business today? It's National Small Business Week in the United States and to commemorate the occasion, I partnered with Cox Business to discuss the importance of connected consumerism amidst the release of its inaugural small business survey (#SBWSurvey).

Available at CoxBLUE.com, The #SBWSurvey was conducted nationwide among 605 small business owners. The findings were intended to help business owners and aspiring entrepreneurs gain perspective on the state of small business and to better understand what's on the minds of their peers.

Let's jump in…

When asked why people started a business in the first place, two-thirds set out on their own path to become the boss. They were inspired by the freedom of owning their own business or the idea of building something of their own. After all, that's what entrepreneurialism is all about.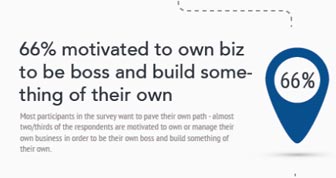 Even during the darkest days of this tumultuous economy, a strong number of businesses never considered closing shop. In fact 43% stayed true to their vision, embraced courage, and buckled up for the wild ride.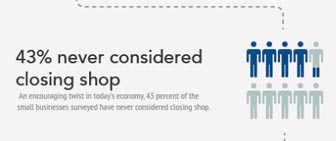 So often in my experience, business owners and managers, of any size, tend to underestimate new technology and overestimate their product or service as a means to growing their business. This is simply not the case and according to the Cox Business survey, 56% believe that emerging technology can only enhance business rather than disrupt it. With that said however, all isn't clear in how to embrace new technology or exactly why for that matter.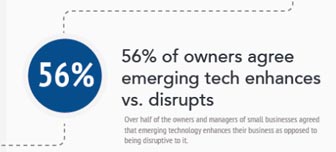 The survey introduced the concept of Digital Darwinism to small business owners. For those who are unfamiliar with the term, it's the phenomenon I explored in depth in The End of Business as Usual and What's the Future of Business. Digital Darwinism happens when technology and society evolve faster than the ability to adapt. To see just how big of a deal it is, take a look at this infographic.

The rate of innovation and new technology is only accelerating. I was pleased (or relieved) to learn that 37% of small businesses feel that they're evolving along with digital trends. However, another third feel that they were attempting to but didn't think they could really keep up with the tsunami of new communities, networks, apps, and devices.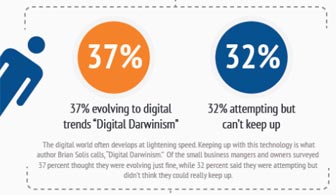 About the Author:
Brian Solis is principal at FutureWorks PR, an award-winning PR and Social Media agency founded in 1999. FW PR bridges the communications gap between companies and their customers, and between products and their specific benefits for their target markets. Solis blogs at PR2.0, http://www.briansolis.com, and regularly contributes to many industry trades. He is also frequently quoted in articles relating to technology trends and Marketing/PR strategies.