Tuesday, November 05, 2013


Despite the reports coming out of some corners of social media, email as a marketing tool is very much alive. In fact, email marketing still produces the highest return on investment of any form of marketing.

Internet marketers have always known the money is in the list, but the real power of email marketing comes when you integrate it with content and social media. I've written about the idea of a total integrated online presence frequently so today I want to focus on one very important element of email marketing and that's lead capture.

Lead capture is simply the idea of offering a reason for every web site visitor to join your email marketing list. Of course, this comes with the assumption that you're creating and offering a compelling reason, usually the promise of a specific and future form of content, for someone to exchange their email address in return.

Once that threshold is crossed you need to also study and implement the best methods for maximizing your email lead capture.

Quite often this is simply a matter of putting the right call to action in the right place at the right time.

Since you can't always know when someone will decide they're ready to subscribe I like to first think in terms of creating many entry points – someone who, say, wouldn't go looking to subscribe might get inspired after reading a particularly timely blog post found in search.

The following three forms of capture should be considered before you determine your precise set of tools.

Active capture – I like to go out looking for people who want my content so I create things like free ebooks and push specific landing pages for this form of content out via advertising and strategic partnerships. I actively build my list in this way.

Passive capture – I also want to make it easy for people who stumble upon my content to subscribe by placing subscribe forms in strategic locations throughout my site.

Shared capture – The final consideration is to look for ways that people can share your content, particularly if that act of sharing can lead to fresh exposure to your lead capture system. Don't forget to promote sharing to your existing list as well.

Some new plugins that let people Pay With a Like or take a social action such as Like to Unlock make sharing even more viral.

Now let's move to some of the proven ways to implement each of these types of capture.

Lightbox pop over – many people claim to hate the pop ups, and with good reason, but the fact is that smart pop ups – ones that only appear one time and only after people have read for a bit, convert. Feature box at top of home page – Some WordPress themes come complete with a feature that allows you to keep your desire to have people subscribe right up there front and center on every page. This is a proven way to make sure people know this is an option.
Many form tools work for this, but Gravity Forms is particularly useful for WordPress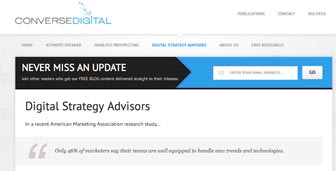 End of each blog post – Often people will come to your site anew by way of a blog post found when conducting a search. This may be the only page on your site they visit that day so many smart marketers place the subscribe box at the end of every post with the idea that if someone really likes that one piece of content they may want to see what else there is.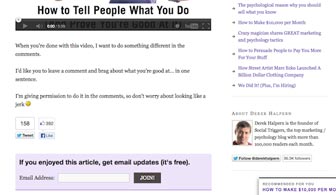 Right sidebar – I've always placed a rather generic sign up form in the right sidebar of my theme and month after month this position brings in subscribers.



About the Author:
John Jantsch is a marketing consultant, award winning social media publisher and author Duct Tape Marketing and The Referral Engine. He is the creator of the Duct Tape Marketing System and Duct Tape Marketing Consultant Network that trains and licenses small business marketing consultants around the world.