Can Negative Reviews Help Your Business?



Thursday, February 20, 2014


Negative online reviews can be a scary thing for small business owners. People can leave you reviews all over the web, and there isn't anything you can do about it.

But negative reviews are not always as bad as they seem. In fact, there are many cases where you can turn a negative review into something that helps you get more customers.

And in the rare cases where you can't there are a few things you can do to make sure your side of the story is heard.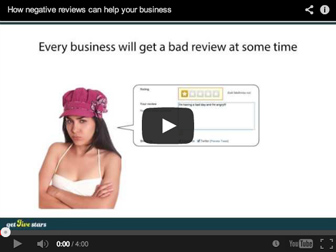 People ARE leaving reviews of your business online

First, it's important to recognize that people can leave online reviews about your business in many places on the web, including Google+, Yelp, CitySearch, Facebook, and others. So you should recognize this and make sure you know where people are leaving you reviews.

Every business owner will get a negative online review at some time, but that's not necessarily a bad thing. Here's why.

How negative reviews can help your business

Negative reviews can actually help you in four important ways:
They create trust and credibility.
According to a study by Reevoo, 68% of consumers trust reviews more when they see both good and bad scores, while 30% suspect censorship or faked reviews when they don't see anything negative at all.

Not only this, but shoppers who go out of their way to read bad reviews convert 67% more than the average consumer
They provide you feedback.
In some cases a bad review from a customer can help you identify a problem area in your business that needs to be addressed. Keep an open mind and watch for this. It might reveal an issue you didn't know about and allow you to address it, helping all of your customers.
They can improve your SEO
Online reviews were identified as a ranking factor in the Local Search Ranking Factors report. And from Google's perspective, it doesn't matter if they are negative or positive reviews. Google looks at reviews as "signs of life" for your business, and reviews help you rank better.
They are a golden opportunity!
Negative reviews are a great opportunity to show your customer focus. Use them to show that you listen to your customers and take action. When people read a bad online review and see a thoughtful, classy response from the business owner, it raises their opinion of you in many ways. Google provides some great guidelines for responding to negative reviews.
For more on this, see Matt McGee's excellent article – 5 Ways Negative Reviews Are Good For Business.



About the Author:
Don is President and founder of Expand2Web.com, which provides WordPress Websites and Local Search Marketing solutions and training for small business owners and consultants.

Don is a veteran of Silicon Valley Startup Interwoven, where he was created a $5M product line and Microsoft where he was technical evangelist for Office and Office Live. Check out his blog at http://www.expand2web.com/blog.