How You Can Use Native Advertising To Complement Content Marketing



Tuesday, February 25, 2014


For many business owners, online advertising has traditionally meant banner ads and Pay Per Click campaigns with the likes of Google and Yahoo. While the online space was in its infancy for marketers, this approach was successful.

However, in recent years, consumers have become more discerning about how they're marketed to, and this has resulted in banner ads and PPC campaigns taking a revenue hit. According to a recent article at Smart Insights, global clickthrough rates continue to show unimpressive interaction, with "banner blindness" a key factor in consumers ignoring straight-up advertising.

Instead, social ads and content marketing have started to drive bigger engagement, with consumers increasingly acting upon ads within the likes of Twitter and Facebook, as well as sponsored blog posts from bloggers promoting a certain brand or product.

Yet even these methods of advertising are beginning to be less effective, with reports showing consumers tiring of constant blatant promotion by bloggers, and confusion around disclosure of a paid/sponsored promotion via these channels.

With consumers looking for a better brand experience that doesn't necessitate a barrage of ads, one area that's set to break out in 2014 is that of native advertising.

What Is Native Advertising?

The problem with advertising is it can often seem out of place to the recipient. Mass advertising in particular—print ads or TV ads—is sent out based on attachment to a popular TV show or the reach of a newspaper or magazine. This leads to less relevance for the audience.

Online ads allowed marketers to become more focused, and begin to isolate target audiences based on age, demographic, browsing habits and more. However, this could still lead to irrelevant ads, with ads showing up based on a Web user's browsing history, versus the ad matching the content being viewed.

This is where native advertising comes into play.

By matching advertorial to content, the hope is the increased relevance to the viewer results in the desired action for that ad. For example, let's say you're a fan of Ford vehicles. You visit a site like Jalopnik and, while reading about the new Ford F-150, you see an accompanying ad for tonneau covers, or tire pressure monitoring hardware.

By providing complementary ads to an audience on a relevant site, and providing context for the purchase, the chances of the ad being more successful are higher than an ad for toothpaste, for example.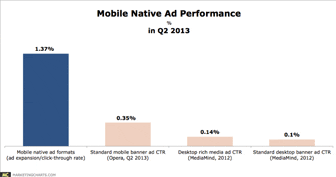 It's this contextual relevance that's making native advertising so attractive to marketers, advertisers and business owners of all sizes. So how can your business benefit?

Native Ads As Content Marketing

As consumer behaviour shifts from making a purchase after seeing a brand ad to researching and validating through reading blogs and trusted online media sources, businesses need to think about how they can be a part of that shift.

A particularly effective approach is to partner with bloggers in your industry or niche, and provide relevant advertising opportunities for them where they can also benefit. There are multiple benefits to this method: