5 Ways Business Owners Can Optimize Their Ads for Mobile



Tuesday, March 18, 2014


Seventy-two percent of small-business owners planned to increase or maintain their mobile ad spend, with 65 percent of these increasing their spending by up to 30 percent, according to a study by Borrell Associates of 1,300 small-business owners.

Add to that the fact that Google and Facebook are shifting more of their revenues to mobile, and it's clear that mobile marketing, advertising and purchasing is more than just a trend—it's a key factor in how consumers prefer to do business in today's marketplace.

So how can your business maintain relevance and competitiveness within this new paradigm?

1. Create A Native Mobile Ad

One of the newest buzzwords currently doing the rounds in social media is "native advertising." This form of advertising complements the website it's running on, or the content it's displayed beside, by being relevant to both the topic and audience.

Instead of the usual Google Ads that may or may not be related to the content on a page, a native ad by a phone accessory retailer, for example, will appear on a blog that has mobile phone reviews, which encourages a warmer lead and better click-through opportunities.

A recent report highlights the increased engagement enjoyed by mobile native ads:

By finding and partnering with relevant blogs and news sites in your niche, you can create relatively low-cost ads and target a more receptive audience.

2. Use A Mobile Display Advertising Partner

If native mobile advertising doesn't appeal to you, the immediate alternative is to partner with a mobile display advertising partner. (These include solutions like Jumptap, mMedia and Mojiva.) The benefit of these partnerships is that you can create an inventory of products for a fairly low cost; the hosting is taken care of by the partner.

These types of advertising partners can help ensure your ad reaches a wider audience than traditional forms of digital advertising by placing your ad across their communities. Additionally, features like contextual ads work much like native advertising and ensure only the audience that would benefit from your product or service sees your ad, offering a higher chance of click-through and activity.

3. Build A Foursquare Ad

Geolocation mobile app Foursquare allows users to "check in" at a physical location. This could be a restaurant, bar, gym or car dealership. By checking into the business, a customer has the option to share their location and buying preferences with their online connections on Twitter and Facebook.

This type of additional revenue from potential customers has resulted in many businesses joining Foursquare yet using it ineffectively. Companies reward "Mayors"—people who have checked in the most—as opposed to rewarding the wider customer base, and increasing loyalty in return.

A solution to this is Foursquare Ads. Instead of relying on your customers' check-ins,Foursquare Ads are more akin to review sites like Yelp, and helps personalize local searches for consumers looking for the types of products and services your business provides.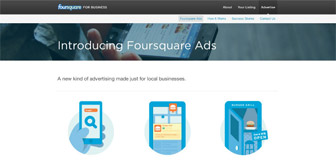 Similar to Google's PPC (Pay Per Click) model, Foursquare Ads only charge you when a potential customer takes an action. The difference is that it only counts when that person visits your store, thereby driving more foot traffic to your storefront.

Additionally the ads will appear for nearby users who have either visited a similar location to yours, or are searching for related services (pizza restaurants for fast-food diners, for example).