How up-to-speed are you about mobile?



Tuesday, May 13, 2014


If you use social web services like Instagram, Vine or Snapchat, you're probably aware that these particular services are very much designed for use on mobile devices. By 98 percent, 99 percent and 100 percent of users, respectively, to be precise.

How clear are you on other popular services? Twitter, for instance? Facebook,Pinterest, Tumblr or LinkedIn? What's the primary way in which people use those?

A handy chart by Statista offers some clarity.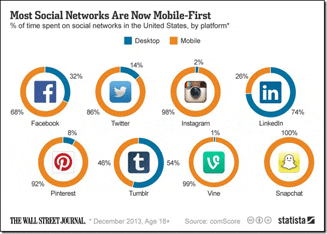 86 percent of Twitter users are mobile-first in their use of the platform. I'd say one reason the percentage isn't higher still is because many people (like me, for instance) use the service on multiple platforms depending on where they are, what they're doing and what device they happen to be using. The "Twitter experience" is pretty good across all devices.

In contrast, LinkedIn is still largely a fixed-location-first type of usage, with only 26 percent on mobile. Maybe that reflects its user demographic (business people) as well as its less-than-stellar experience via mobile devices.

This snapshot view from December 2013 illustrating how most social networks are now mobile-first in their usage is yet another pointer to the bigger picture on what's happening across the online world. It's a picture of the US but it is a credible indicator of much of the global online world.

That's borne out in a detailed sharing of metrics from Forrester Research in2014 Mobile Trends, a 43-slide deck posted on Slideshare in February that offers credible perspectives in three key areas:


How will mobile transform business?
What will happen in 2014?
What won't happen in 2014?
The "What will happen..." section includes a really interesting prediction:


New mobile-centric ad formats will emerge
More mobile ad network will shift to the exchanges
Short videos (5 to 10 seconds) will make a greater impact on consumers, taking advantage of higher engagement levels with video on mobile
Look at that Statista chart, above, again.

In the "What won't happen..." section, Forrester says wearable technologywon't move past a niche market: it's still experiment time. (I'm looking forward to seeing what the 2014 hype cycle on emerging technologies from Gartner, due within the next month or so, shows about wearable tech.)


Click here to continue this article


Comments






About the Author:
Neville Hobson is the author of the popular NevilleHobson.com blog which focuses on business communication and technology.

Neville is a UK-based communicator, blogger and podcaster. He helps companies use effective communication to achieve their business goals. Visit Neville Hobson's blog: NevilleHobson.com.