Breakdown of Social Media Marketing in 2014



Tuesday, May 20, 2014


Mike Stelzner over at Social Media Examiner has published the 6th Annual Social Media Marketing Industry Report based on a survey of over 2,800 marketers.

It's a pretty robust report at 50 pages and covers the gamut of social media marketing topics from the most important social platforms for marketing to the most important social content types to the ways marketers will be changing their approach to social media in the future.

Some of the highlights include:


92% of marketers say social media is important for their business (up from 86%)
58% of marketers say original written content is the most important form of content
68% of marketers plan on increasing their use of blogging
61% of marketers plan to increase Google+ activities in 2014
6% of marketers are podcasting and 21% plan to increase podcasting activity
Facebook and LinkedIn are the two most important social networks for marketers
64% of marketers plan on increasing their use of LinkedIn
You really get a lot of details in this report on all major social networks and activities including Blogging, Twitter, Facebook, LinkedIn, YouTube, Google+, Pinterest, Instagram, Vine, Forums, Podcasting, Snapchat and categories like mobile, social review sites and social bookmarking.

SME also asked some great questions about time spent on social, measuring ROI, outsourcing, types of content, integration with other marketing tactics and what other forms of marketing that social media marketers were using.

Top Goals and Benefits of Social Media Marketing
The top benefits cited for social media marketing include top of funnel objectives like increased exposure (92%) and increased traffic (80%). While that is to be expected, what is interesting is that the more time marketers have been at social media marketing, the more social media helped them improve sales.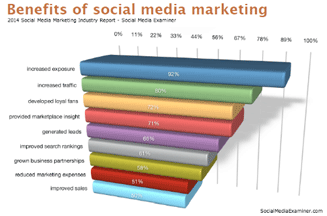 The breakdown between B2B and B2C social platforms that were most important to marketers was interesting as always:

Top B2B Social Media Platforms:
33% LinkedIn
31% Facebook
16% Twitter
11% Blogging
3% Google+
3% YouTube
Top B2C Social Media Platforms
68% Facebook
10% Twitter
6% Blogging
6% LinkedIn
2% YouTube
2% Google+
2% Pinterest
1% Social Review Sites (Yelp)
Click here to continue this article

Comments




About the Author:
Lee Odden is the CEO of TopRank Online Marketing, a provider of innovative Internet marketing consulting for progressive B2B companies ranging from Marketo to PRWeb to McKesson. Odden has been recognized for his expertise with enterprise social media, SEO and content marketing strategies by The Economist, Advertising Age and Mashable. He writes a monthly column called Social Media Smarts for ClickZ and his blog at TopRankBlog.com has an active community with over 46,000 subscribers, 12,000 Facebook Fans and has been rated the #1 Content Marketing blog 3 times by Junta42. He is also the Author of "Optimize: How to Attract and Engage More Customers by Integrating SEO, Social Media and Content Marketing" published by Wiley.