7 online marketing lessons on launching a small business from Bogart's Doughnuts
Tuesday, June 10, 2014
Some may not know this about me, but I'm a HUGE donut geek. I may be skinny (weighing in at 170 lbs), but I'm addicted to my donuts and coffee. I've cut back lately, but I still enjoy a good donut.
And I live at the epicenter of the donut universe in Minnesota. I'm less than 2 miles from two of the better donuteateries in the Twin Cities in Mel-O-Glaze and Baker's Wife–both tremendous.
But, there's a new donut shop that just opened in near my 'hood–
Bogart's Doughnuts.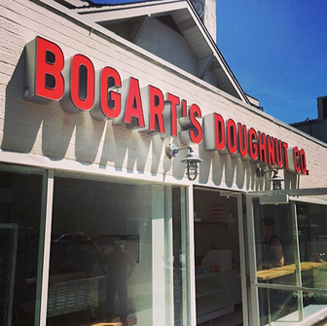 A little geekier than my favorite haunts, but this place have some serious donut geek-cred to it.
The owner, Anne Rucker, sold donuts at the Kingfield Farmer's Market for the last couple years. If you haven't had her brioche donuts yet, you simply have not lived.
Anyway, Anne Rucker opened up Bogart's after months of great anticipation in South Minneapolis. After all, this place had a serious following. And, that was confirmed when Bogart's opened last week to crazy lines and rumors of donuts selling out by 9 am! 9 am!!!!!
A week in, and I'd be willing to bet Anne would consider this launch a success so far–although, she does have a ways to go. It's been interesting to follow along with her marketing efforts too, as a small business owner. I'm always curious to see how smaller operations handle online marketing and PR–especially with strapped resources.
But Bogart's has been interesting to watch–for a number of reasons. Some of which Anne has nailed–and others, well, I'll just offer up some free, unsolicited advice (in hopes of exchanging those for free donuts down the road!
Here are 7 online marketing lessons to be learned from the Bogart's Doughnuts grand opening this past week:
Go very lean and mean when it comes to your web site
When it comes to small businesses and the web, the easier and simpler the better. Not just for customers (that's a no brainer), but for the business owner as well. That's why I was happy to see Bogart's went with a very simple and mobile-friendly design. Just four items in the top nav–The Shop, Doughnuts, About and Order (although this function is not available just yet). Kudos to friend and colleague Katrina Wollet for the help with the design.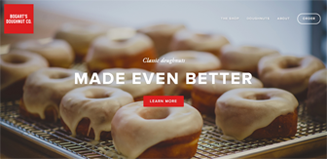 Click here
to continue this article
Comments
About the Author:
Arik Hanson, is the principal of ACH Communications, a digital communications consultancy focused on fostering meaningful online interactions, driving digital relevance and building measurable growth through social channels. Arik's blog, Communications Conversations (www.arikhanson.com), has received numerous industry accolades including being named "Required Reading" by PRWeek and one of "The Top 25 Blogs to Follow" by PRWeb. He's also a regular contributor to the PR Breakfast Club, Ragan.com, PR Daily and MinnPost.