The Best Google Analytics Metrics for Social Media Professionals
Tuesday, June 24, 2014
Special Guest: Adam Singer
Adam Singer
, Analytics Advocate at
Google
, joins the
Social Pros Podcast
this week to discuss what it's like working for Google Analytics, measuring macro versus micro conversions for social media, and the importance for every business and professional of measuring success.
Creating a Measurement Plan
Adam is part of the
education team at Google
. They produce the in-product help videos and the
Massive Open Online Courses (MOOCs)
. Basically, their goal is to make everyone smarter with
analytics and data
. They are "amplifying what people are saying in the industry from a tips, best practices standpoint." And then also getting new products in front of users. Adam also writes a
monthly column on analytics for ClickZ
.
For Adam, one of the most important things anyone can do is to
track your own successes
. This is because the business world has gone from "tell me" to "show me."
No longer is it enough to say, "I was a copywriter for Proctor & Gamble." What does that mean? Instead, you need to say something concrete like, "I wrote this landing page and AB tested this copy, and I generated a 12% conversion rate."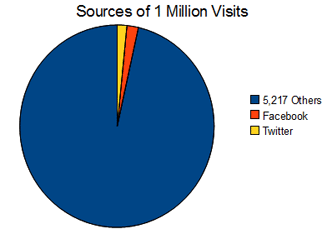 via
Adam Singer and The Future Buzz
Whether you're in sales, marketing, or product management, you can and should keep track of your success. "It doesn't have to be anything too complex. You can build it in a Google doc, and you could trend over time your amount of work in certain things, and then tie that to outcomes." That will allow you to show your success with specifics, rather than just listing off job titles.
Don't just measure Facebook "likes" and retweets. "Even if social only contributes to the upper funnel, via tools like
multi-channel funnels that we have in Analytics
, you can still show how that
actually attributed to a conversion
a little bit later down." Tie these numbers to outcomes.
"If you're in the business world," Adam says, "and you're not speaking the language of data fluently, now is a great time to start"
Social Media Number of the Week: 230 Million
Omnicon Media Group is reportedly paying Twitter $230 million
over the next two years for first access to new opportunities developed by the social network. The deal will also lock in ad rates and inventory access for Omnicom agencies.
Click here
to continue this article
About the Author:
Jay Baer is a tequila-loving, hype-free social media strategy consultant and coach. An online marketing pro since 1994, he's worked with more than 700 companies, and 25 of the Fortune 1000. He's one of the world's most popular social media bloggers, creator of the 8-step Social Media Strategic Planning Process, and the Twitter 20 series of live Twitter interviews. He spreads his "think tools last, not first" message around the country like a digital dandelion, speaking to conferences, small groups, or passers-by. Check out his blog at Convince&Convert.