10 Ways to Supercharge Your B2B Lead Generation Efforts
Tuesday, August 12, 2014
B2B lead generation seems to be a mystery to many marketers. Just do a search on the topic and you'll find little that's helpful.
In my opinion, there are two reasons for this. One – people are searching for that one killer lead tactic that will mask all ills or, Two – people fail to realize that successful B2B lead generation is made up of activities that are by nature very hard to quantify and pin down.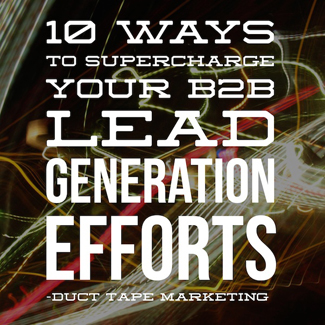 The latter then leads to plenty of articles spouting the virtues of practices such as inbound marketing and content marketing, but little hard advice on how to make any of it pay.
Here's my take –
the real problem lies in the fact that you don't simply generate a lead today, you guide it.
You can no longer run an ad that say's "hey, we've got what you're looking for come and get it" and expect much. Once a prospect actually knows what they are looking for, they're already looking for a price.
Nope, it's a process that involves many components working together that just happen to culminate in "a lead or click," but know this, that click isn't the thing; it's merely the vehicle. Don't get caught in the trap of relying on that kind of measure to show you what's working.
Proper lead generation – or lead guiding – goes more like this –
1)
Hey, here's the real problem you need to address,
2)
hey, here are a couple ways you might start to think about that problem,
3)
hey, here's one specific way to solve that problem and maybe, just maybe,
4)
hey, here's why we might be the right one to help you fix that problem.
This kind of process comes to life in the combination of the right activities delivered at the right time in the customer's journey. It takes a mindset of consistently calling to action while consistently offering to loop a prospect back into consuming more content.
Below are ten B2B lead generation practices that must be used in some combination to guide the act of building a steady stream of highly qualified leads. No matter if you run a marketing department tasked with generating leads or you're an individual sales person trying fill the lead gap, this is your plan of action.
1) Answer focused blogging
I know everyone tells you that you must be blogging today, but simply waking up on a Monday and deciding what to say is what leads to immediate blogging burnout. You must blog, but you must do it with intention.
Here's the easiest way to do that. Go to your sent email folder and find a dozen or so questions you've answered from clients and prospective clients.
Now, turn each of those into blog posts.
Then, think about the questions your prospects might be asking or thinking before they ever consider your product or service as a possible solution.
For example, I was speaking to a group of Franchise print shops and asked them to tell me what questions a prospective customer might be asking at the earliest part of the their journey to find a print shop.
Click here
to continue this article
Comments
About the Author:
John Jantsch is a marketing consultant, award winning social media publisher and author Duct Tape Marketing and The Referral Engine. He is the creator of the Duct Tape Marketing System and Duct Tape Marketing Consultant Network that trains and licenses small business marketing consultants around the world.