Why You Must Change Your Content Marketing Approach
Tuesday, August 19, 2014
Now that pretty much everyone on the planet gets the importance of content marketing it's time to throw a wrench in the works. To remain effective with your content marketing efforts you must constantly evaluate, change and evolve!
I know you may not want to hear that, but content only provides value when it's useful and the consumer always determines what useful looks like. As more and more content marketers experiment with content form, length, frequency, mode, delivery, and style the consumer pallet for content continues to mature and evolve and you must do so with it.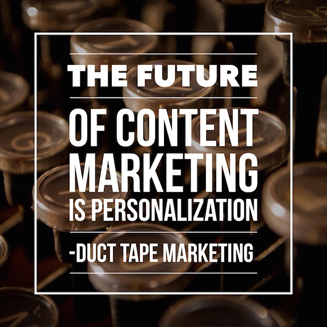 I've been participating in content marketing for about fifteen years now, long before we called it that, but I've always tried to stay in touch with the wants and needs of the reader.
My first efforts were articles placed in directories and shared in an ezine. (How's that for some nostalgia) In 2003 I started blogging here and that's driven a great deal of my growth for over a decade.
Over the years my email newsletter has become more of a place to filter, aggregate and share other people's content in snack sized versions. I produced my first eBook in 2004 or so and now feature ten, including some I've licensed from other writers.
We now feature guest blog post two and sometimes three times a week and I contribute blog style articles to about a dozen publications on a regular basis. Social media has obviously opened new doors in terms of sharing and generating new forms of content.
I believe the future of content marketing, however, rests in our ability to evolve to a more personalized form of creation and delivery where the end reader participates in the curation and creation of the content they request from marketers.
This next step will require even more from content marketers if they are to continue to deliver value in an saturated field of more and more content. I reached out to some well-known content marketers and asked them to share
how their content marketing thoughts had evolved over the last few years
.
Their responses are both fascinating and informative.
Enjoy!
Online content strategy has changed over the last couple of years. The focus is still on providing value, but this has been honed even further.
I see businesses being more strategic about the type of content they publish online, to build the communities they want. There's more long term strategy in the content they produce. I see businesses blogging less often but with deeper content to create strong evergreen content relevant to their business. I see others sharing more thoughtful pieces of content to connect with the right people.
A few years ago providing value might have been enough to get traction to impact your business, but it's also very important to create the type of coherent online visibility you need to establish relationships. Combining the two is essential today. There's just too much noise, too many people publishing the same thing.And of course you need a visual marketing strategy to go hand in hand with your written content if you want to really take advantage of social media reach today.
Click here
to continue this article
Comments
About the Author:
John Jantsch is a marketing consultant, award winning social media publisher and author Duct Tape Marketing and The Referral Engine. He is the creator of the Duct Tape Marketing System and Duct Tape Marketing Consultant Network that trains and licenses small business marketing consultants around the world.