The Future of Business Starts with Us
Tuesday, October 21, 2014
I often share a quote by Russian novelist Leo Tolstoy, "Everyone thinks of changing the world, but no one thinks of changing himself."
And that's where are in business. We all talk of change but very few of us start with changing the very things that will help us more effectively compete for the future.
It's changing or it should change…
What we see (perspective and vision)
What we create (product)
What we do (work)
Why we do it (purpose)
How we do it (process)
Who we do it with (people)
How we define success (objectives and metrics)
What we do next (planning and strategy)
We are change.
What's important to remember is that the future of business has been widely speculated but not documented. This means that the future is being written as we go by what we say and do and also by what we do not say and do.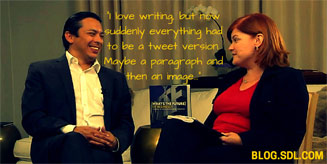 I spent time with SDL CMO Paige O'Neill to discuss our role in the future of business and what possibilities will unfold when we put people first in this digital era. The
resulting video
is something that I wanted to share with you here.
In our fireside style discussion, we explore the rise of Generation C, market disruption and the role of empathy in your business strategy. It's very conversational and fun while still tackling tough subjects.
Other important topics include:
Customer experience (CX) is becoming more important than the product itself.
Disruptive technologies and customer behavior are changing how we do business.
'Generation C' – looking at the customer, not by age but how they behave and become digitally connected.
Digital experience and the journey.
The importance of empathy combined with understanding the customer.
Please take a moment to watch the
video now
. (Note: Email gated)
Comments
About the Author:
Brian Solis is principal at FutureWorks PR, an award-winning PR and Social Media agency founded in 1999. FW PR bridges the communications gap between companies and their customers, and between products and their specific benefits for their target markets. Solis blogs at PR2.0, http://www.briansolis.com, and regularly contributes to many industry trades. He is also frequently quoted in articles relating to technology trends and Marketing/PR strategies.