The best automagical Twitter following tools for your business


By Chris Abraham




Thursday, August 20, 2015


Over the last few weeks, I have been sharing my tools and processes with you. If you haven't read them yet, be sure to check out Social media content discovery and curation for the win, Your social media marketing automation solution, My online influencer research and engagement process, and Tools I use to amplify social campaigns. Now, we're on to automatingTwitter following, following-back, and unfollowing. Most of the tools I have used have made the process semi-automatic because doing everything on automatic broke Twitter's ToS; however, ManageFlitter drives through the loophole that Twitter left behind by offering a "let someone else do it" called Remote Management, which, if you're a pro member, really works, though it can get expensive if you get addicted to it's power. More on that later. Here's my list:


SocialOomph



I'll admit that I mostly use SocialOomph for their very handy auto-tweeting tool (I discuss it in detail over here: Your social media marketing automation solution). Before ManageFlitter offered its Remote Management tool and after Twitter shut the door on doing everything with one click, SocialOomph as my go-to when it came to following, following back, and I just looked around SocialOomph and it looks like they've added a new follow-back function for an extra $6.44/month, so I just joined that up, but the tool isn't functioning yet — probably a PayPal delay (I'll let you know what I think when I have a chance to check it out). They call it the SocialOomph Follow-Back & Auto-DM service, though I never recommend doing any auto DMs on Twitter. (view image)



It's really considered poor form, even if you think your one-liner is super-charming and looks totally real, it probably isn't. Edit: I just checked the Follow-Back & Auto-DM service and it's semi-automatic and reach follow-back opportunity requires going through their "vet followers" tool.

The tool would be impossibly tedious — and it is — until I installed the Check All plugin for Chrome, which makes the entire process semi-automatic and really very doable — it works like a champ (though Manage Flitter does the same thing automatically using Remote Management, though RM is was more expensive and for $6.44 plus the Check All plugin is pretty darn close — though it is surely not fire and forget).

Here's what I get at $17.97/month as a SocialOomph Professional Subscription (and if I want the SocialOomph Follow-Back & Auto-DM service, I also have to pay $6.44/month):


Connect an unlimited number of Twitter accounts to your user account.
Schedule as many updates as you want. The 12 tweets per 60 minutes restriction for free members don't apply to you.
Post time-limited updates to Twitter that will automatically be deleted (self-destruct) from your Twitter account after the period of time that you select. Keep your feed clean of out-dated information that can confuse people.
Schedule recurring updates, i.e., pre-configure your regular messages / updates / reminders, set them, and forget them.
Easily set up alternate tweet text options for your recurring updates, so that your recurring updates don't publish repetitive text. With each recur the system randomly picks one of your alternate text options to publish.
Connect one or more update queue reservoirs to a social account and/or feed more than one social account from an update reservoir. The system drip-feeds the updates to the social accounts. All you need to do is fill the reservoir. You don't need to worry about scheduling the updates.
Bulk upload tweets and schedule them with no effort.
Upload and schedule photos for your Twitter account.
You still have all the other great things you have with a free account.
ManageFlitter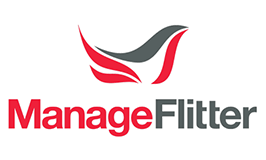 With the addition of Remote Management, ManageFlitter is a dream. It's literally outsourced all of the annoying and tedious hours of clicking "accept" and "yes" and "unfollow" and "follow back" and "follow" to someone else, whomever that is.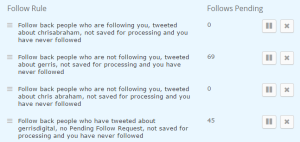 Maybe there's an accept, yes, unfollow, follow back, follow click farm somewhere and there are an infinite number of monkey clicking on an infinite number of follows. I don't care.

It's pretty cheap, especially when I consider my time valuable. To me, it's worth it. $50 for 10,000 "actions" which is to say one follow is an action, one follow-back is an action, one unfollow is an action.





You can create elaborate follow, unfollow, and block rules and anything that meets these rules is processed automagically just as long as there are an appropriate balance of action ready there for spending on the Remote Management dashboard.



So, I do all kinds of cool things with the powerful search function that ManageFlitter Offers, including popping zip codes into the search function and then queuing up all the folks who show up in the physical and geographic areas I specify so that I follow them all. I can do the same thing with profile mentions, hashtag mentions, keyword terms, and a whole host of things — the limit is your imagination. The only thing it can't do — none of them can do — is offer you the ability to bulk upload a CSV, EXCEL, or TXT file — or a handy box for copy-paste and submit — with all the @profiles that you want to follow but have collected elsewhere (come on innovative social media tool world! Somebody make this for me, for us! I'd even pay for it, of course — why aren't you doing it, ManageTwitter? Social Oomph, Crowdfire!?)

Spend some money on ManageFlitter — spend $50 on a subscription and then $50 on trying out the Remote Account Management (RAM) tool. Here's what I get for my spend, my

$

49/monthManageFlitter Business subscription:

Continue reading...

Comment




About the Author:
Chris Abraham, president of Social Ally, is a leading expert in online public relations with a focus on blogger outreach, blogger engagement, and Internet reputation management.

A pioneer in online social networks and publishing, with a natural facility for anticipating the next big thing, Chris is an Internet analyst, web strategy consultant and advisor to the industries' leading firms. He specializes in Web 2.0 technologies, including content syndication, online collaboration, blogging, and consumer generated media.