9 Mobile Marketing Ideas That Go Beyond Your Website


By Rich Brooks




Thursday, December 17, 2015


So, you've got your mobile-friendly website all set up. Your site—built on a Responsive Web Design (RWD) framework—is now optimized for desktop, tablet, and smartphone viewing. Is your mobile marketing complete?
Not quite.

Your website is the starting point—not the finish line—for your mobile marketing. Since the majority of the world's Internet traffic is delivered to a tablet or smartphone, it's critical that you have your mobile home base all set up. That way, when people visit on their mobile device, they can enjoy your content without pinching, zooming, or squinting.

Having a mobile website is about being a good host, and making your mobile visitors feel welcome.

However, there's a lot more to mobile marketing than being Bobbi Flekman. (You know, "the hostess with the mostess.") You can't just sit back and expect everyone to come to you. You need to put the "mobile" in your mobile marketing by going out and engaging your prospects and customer where they hang out.



Sure, the QR code is dead—or at least as relevant as MySpace—when it comes to marketing. But there are other ways you can engage your audience while they're starting a their pocket-sized screen.

Let's take a look at some of the ways your small business can use mobile marketing beyond a responsive website.


Email Marketing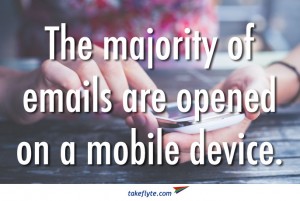 According to Litmus, mobile now makes up the majority of email opens. Many people, this author included, often use their smartphone as a de facto junk filter. Whether in bed, in a meeting, or cooling off at the gym, we quickly skim through our inbox and hit delete to anything that doesn't seem interesting or isn't optimized for a mobile device.

It's not enough to have a "mobile-friendly" email template. You need it to be a responsive template. Email templates that are only listed as mobile-friendly often look ugly on a desktop, hurting your brand. Responsive templates, on the other hand, optimize the font size and design based on the viewers' screen dimensions.

To-do: make sure that you're using an email service provider (ESP) like Constant Contact or MailChimp, with responsive email templates. (View Image)

Your customers are friending, following, and networking with people on the go. They're liking, favoriting, and sharing the content of friends and companies while they're waiting in line, watching TV, or—God help them—driving.

Some platforms, like Twitter and Instagram, were born into mobile. Other platforms, like Facebook, LinkedIn, and Pinterest, have all improved their mobile interface to the point where it sometimes exceeds the desktop experience.



The good news is that any of the content you publish to these platforms is almost invariably mobile-friendly. By creating engaging content—tweets, photos, even videos—you can get in front of your audience as they scroll through their newsfeed and engage with them.

To-do: Create small-bite content that provides value to your audience or personifies your brand. Social media is often a better place to build bridges, not to sell them. However, you can use social to drive people back to your mobile-friendly website.


Mobile Advertising
There are so many types of mobile ads available they deserve their own blog post. Or perhaps their own blog.

Using an advertising platform, you can place standard, mobile-friendly banner ads across websites of all types. You can also use interstitial ads: the kind you have to look at before getting to an article or video.

You can do hyper-local targeted ads, which are fantastic when you have a physical location and you're trying to reach a local audience.

Speaking of which, you can advertise on Yelp or TripAdvisor, which your ideal customer may be using right now to find a good sushi place or in town bed & breakfast.

And although we already discussed social media, running mobile ads on social media sites like Facebook, Instagram, or Twitter, can provide insane ROI when done right.

Just make sure that if you're going to spend money on a mobile advertising campaign, that you're driving people to a mobile-friendly landing page.Otherwise you've just spent money to get them to curse your name and click the back button.

Continue reading...






About the Author:
Rich Brooks is president of flyte new media, a Web site design and Internet marketing company in Portland, Maine. Flyte works with small businesses to build professional Web sites that often include e-commerce, Flash and content management systems. They promote their clients' sites through search engine optimization, e-mail marketing, business blogs and social media. You can follow him on Twitter at http://twitter.com/therichbrooks.