5 Annoying Facebook Marketing Tactics You Need to Stop Doing Right Now (And What to Do Instead)
By Rich Brooks
Thursday, February 18, 2016
Yes, we all know that Facebook's organic reach for business pages is way, way down these days. It's tougher than ever to reach people on the world's most popular social network, even those who already like you.
But that's no excuse for anyone to engage in these five incredibly annoying Facebook marketing tactics that will alienate—rather than engage—your audience.

And yes, I'm talking to you. And to me. I've probably been guilty of a couple of these things. Although not #2. Never that one.


1. Tagging everyone you know in your posts.

Tagging someone on Facebook means that your post will show up on their personal profile. It also increases the chances that their friends will see your post, even if you're not friends with them.

The purpose of tagging is to include people in your posts and photos, ostensibly because they were in your photos or part of your update.

Or they call attention to a post, such as when a friend wants to draw your attention or wants your opinion on something.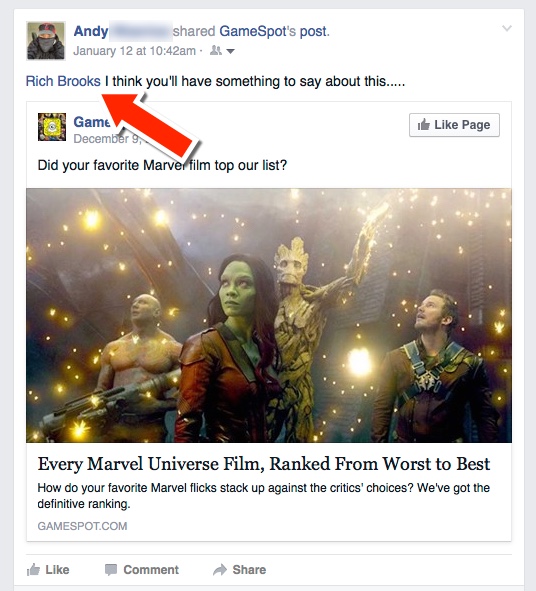 Businesses have pretty limited tagging capabilities, but people can tag just about anyone and anything.

And because of this, some people have chosen to abuse this privilege by tagging everyone in the free world in their post, in a desperate plea for attention. Download my e-book! Listen to my new single! Pay Attention To ME!!

Did you take the time to un-tag yourself? The worst offenders often repost a virtually identical update, tagging you all over again.

If someone was on your podcast, or co-wrote a song with you, or mentored you in some way and you want to thank them publically, tagging them is fine. But pulling crowds of people into a self-promotional post, especially on a recurring basis, is something that needs to stop happening now.


2. Guilting people into likes, comments, and shares.
Guilt can be a powerful motivator. Just ask my kids.

But is that the emotion you want people to associate with your brand?

Now, there's nothing wrong with being religious. However, there is something very wrong when a business leverages religion to garner likes, comments, and shares.

By the way, I'm not talking about churches, temples, mosques, or any other type of religious entity out there. I'm talking about the law firms, auto repair shops, and debt collectors I've seen use this tactic.

Talk about taking the Lord's name in vain!

Telling someone that they're choosing Satan over God if they don't share your post, or that their eternal soul hangs in the balance if they don't type "Amen" in the comment field, is not about being religious. That is not faith. That is manipulation.

Likewise, I've seen actual updates in my newsfeed that tell me if I scroll past your post about child abuse or animal abuse without liking, commenting, or sharing, I'm supporting the abusers.

Truth is, there's a cottage industry of scammers using these techniques to game Facebook into giving them undeserved visibility in the newsfeed. Don't feed the trolls, and don't become one of them.



Not sure if a post crosses the line? Just ask, WWJD?


3. Adding people to groups without their permission.
File this under "Facebook Marketers Gone Wild."

Facebook allows us to add people to groups without their permission. And in some cases, this is a good thing. It makes it easier when you can quickly populate a Facebook group about an upcoming reunion with the members of your extended family. Or if you're running a mastermind, it's great to be able to create a space that everyone can share ideas with in between meetings.

But once again, some people have taken advantage of this opportunity and turned it into frustration for the rest of us.

They create a "group", add everyone they can find, and then bombard the group with thinly-veiled sales pitches in the form of status updates.

Suddenly your notifications are filled with these "amazing" updates from groups you never remember joining in the first place.


4. The Friend to Ask campaign.
Have you ever accepted a friend request from a person with a lot of connections to you, even though you're not entirely sure that you've met in real life?

And then seconds later you receive a chat request, asking you to like and share a page for a [insert random business] in [insert random place you've never visited]?

Would you ever behave that way in the real world? (Please say no, please say no, please say no…)

I'm not suggesting that you can't use Facebook like LinkedIn: as a way to grow your network. After all, there's no one right way to use Facebook.

However, a better way to build rapport would be to offer something of value, not just asking for something. And no, I don't mean that free e-book you're offering on your site.

Continue reading




About the Author:
Rich Brooks is president of flyte new media, a Web site design and Internet marketing company in Portland, Maine. Flyte works with small businesses to build professional Web sites that often include e-commerce, Flash and content management systems. They promote their clients' sites through search engine optimization, e-mail marketing, business blogs and social media. You can follow him on Twitter at http://twitter.com/therichbrooks.